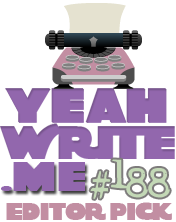 My grandfather called me his "blonde bombshell" when I was three. "I'm NOT a blonde dumbbell!" I yelled & punched him in the nose.
Somewhere along the way, that self-assured kid got lost. She learned that she laughed too loudly for a girl, that boys would pick her for their kickball team but would never want to kiss her if she was good at sports, that fat was the worst thing she could ever be, that she was smart but it was arrogant to admit it, & that the only acceptable way to speak about herself was negatively.
I said she got lost but truthfully, I buried her. I put duct tape over her loud mouth & hog-tied her active limbs. I'm not sure exactly when, but I remember feeling too loud, too abrasive, just too much of everything in elementary school.
In fifth grade, I started to wear a bra & get hips. The other girls my age didn't need bras or have curvy hips. I wasn't only too loud, too rough, too snarky, I now had too much body. Everything about me felt excessive & I wanted to shrink.
I curled inside myself and didn't feel entitled to anything, not even love. Sometimes I didn't even feel entitled to the life I had been given & a few times, I tried to give that life back to the earth by taking it away from myself. I was ten years old the first time I attempted suicide.
I believed that I had nothing to offer the future. I didn't feel entitled to breathe the air that someone else could use. I had already taken too much, been too much, & I wanted to be nothing. I wanted to shrink and get out of everyone's way.
I have since rediscovered that brazen, self-assured little girl who would punch anyone, even her grandfather, for calling her stupid. Not only within myself, but I see her in my daughters
I don't want them to lose her, as I did.
I worry that they won't feel entitled to all that is theirs by birth.
They are entitled to grow, to explore, to fail, to succeed, to love, to live, to learn, and to fail a hell of a lot more. Sadly, I expect they will have to fight for those things. The world will never let my kids forget that they were designated female at birth. If they are trans*, they'll face a higher risk of physical or sexual violence based on that fact alone. If they are cis, they'll fare a bit better. The world will try to pay them $0.72 for every $1.00 it pays cismen. The world will tell them their worth is tied to their bodies, which will be too much or not enough. The world will tell them their worth is tied to their sexuality, their sexual experiences or lack of them.
The world will tell my kids they are not entitled to bodily autonomy. It will tell them through judging their clothing choices, their decisions to pierce or not pierce their bodies, to tattoo or not tattoo their bodies, to have or not have children.
The world will tell my children they are not entitled.
It is my job to do everything in my power to help them hold on to their entitlement throughout the barrage and assault the world will throw at them. It breaks my heart to admit this, but I may not succeed. But you can bet I will do my damnedest to raise a couple of entitled children.