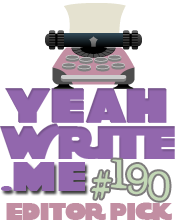 As a child, I used to listen to Christmas music and bawl. Good King Wencesles could reduce me to tears in ten seconds. The Little Matchgirl took five seconds, if that. There's something about the winter that makes the tears flow more easily. I suppose it could be seasonal affective disorder, but that feels disingenuous to me.*
Winter is a time of hibernation, of dying, of darkness. Maybe I do just crave some extra Vitamin D, but it feels like these emotions are natural for me. They feel as natural as the calm sense of reassurance that floods through me when I bask in the sun. Denying the dark emotions is to deny half of myself. The longest day of the year must be countered by the longest night and so it is within me as well.
That the cycles of my emotions might follow the cycles of the seasons seems as it should be. It is my understanding that most Christian religions believe Jesus was actually born in the spring, but celebrating his birth during the winter feels more necessary. Yes, there's the whole "celebrate around the time of the pagan holidays" thing, but I think – no I feel (it's the winter, I feel things instead of thinking them these days) – I feel that there might be more.
The celebration of the lights that is Hannukah, the return of the sun marked by Yule, the birth of the Son on Christmas – here we are, as human beings, in need a reminder that it will get better, that the light will return to us. We will feel the warmth again.
I used to make candles on the autumnal equinox and burn them all night on winter solstice.
Between the cost of traveling to see family, gift giving, and having to turn on the oil heat – winter is definitely a time of scarcity. I reach for the light, for the warmth, for the promise of fecundity. For the past two years, I have been able to find that promise within my home.
The fertility treatments that brought us our twins were done in the winter. I love this fact. I now have new dates to celebrate in the winter. We transferred the embryos on 12/12/12. I found out I was pregnant the day after Christmas. What more promise do I need, that we will find the sun again and life will grow out of the darkness than the laughter of my children? My beautiful, improbable but not impossible children, who began to grow in the darkness of winter. In the dark midwinter, they are my light.
Although a spice-scented candle & a glass of mulled wine certainly wouldn't go amiss.
*I am not discounting the existence of Seasonal Affective Disorder, nor meaning to imply that it is something people should just suffer through. I only mean that I do not believe it is an appropriate diagnosis for myself.